Auriculas originated from a natural cross between Primula auricula and Primula hirsuta where they grow together in the Alps. The resulting hybrid, Primula pubescens, has been bred for over 400 years to produce the types and quality that we recognise today.
In the main, Auriculas are hardy and grow quite happliy in the garden. However to achieve the best plants for exhibition, protection from the worst of the winter rain is preferred. An unheated greenhouse, cold frame or other protection is sufficient.
We are frequently asked how to grow our plants, the guides below may help.
The Plants We Show
Edged Show Auriculas are considered the most difficult to grow and prepare for the show bench as the pips (individual flowers) can take weeks to open and are very variable.
The flowers comprise 4 distict circular zones. A central tube of yellow or gold; a circle of farina, created by tiny hairs, so densly packed they form a 'white paste'; the body colour, the most prized being black, although other colours are being bred. This colour must be confined without flashing the the outer edge; and finally 'the edge', this can be green (no farina covering), grey or white depending on the density of farina.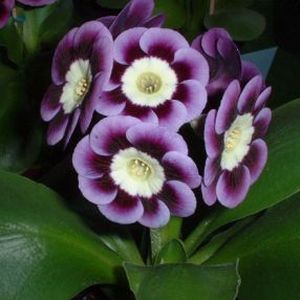 Alpine Auriculas can be distinguished from Show Auriculas by the lack of paste in the eye, indeed they should not have any farina on the plant at all. The tube and eye combine to make a Gold Centre or a Light Centre, the two types of Alpine Auricula. Outside the eye the colourful pips come in shades of red and brown for the Gold Centres and pink through to blue for the Light Centred. These colours in turn shade from dark near the eye to lighter hues at the edge.
Alpine Auriculas are considered easier to grow than Show Auriculas and adapt much better to garden cultivation.